PRESENTATION OF THE METHOD
---
Dear Web user,
To facilitate your discovery and practice of Phosphenism, we invite you to:
1) Visit the menus on the left-hand side of this page starting with the first "PHOSPHENIC MIXING APPLIED TO EDUCATION". Follow the arrows at the bottom of each page to discover, thanks to animations, Dr LEFEBURE's method.
2) Download for FREE "PHOSPHENIC ENERGY UNIVERSE" below
3) Register and receive every Tuesday, for free, information about PRACTICING PHOSPHENISM. From basic explanations to advanced technical advice.
Have a good discovery!
1 - UNDERSTANDING THE PRACTICE THANKS TO THE ANIMATIONS
In order to view all animations, click on the left hand side buttons, starting with the first, "PHOSPHENIC MIXING APPLIED TO EDUCATION". Then, follow the arrows at the bottom of each page.

2 - DISCOVER THE UNIVERSE OF PHOSPHENIC ENERGY

by downloading FOR FREE
"Phosphenic Energy Universe" in PDF format
To access the download page, please click on an image.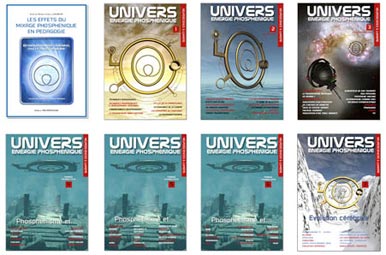 You will find
free
downloads.
3 - ACCESSING PRACTICAL FILES
To receive practical advice about Education, Personal Development or Initiatory Techniques, please
register
.
Phosphenism and its beneficial effects do not need to be proved but experienced.
Doing phosphenes is not dangerous, as long as the recommendations established by Dr LEFEBURE after 45 years of experimentation are respected.
Today, thousands of people practice Phosphenism in French - and Spanish-speaking countries.
---
The School of Dr LEFEBURE
the first
center for teaching applied
initiatory techniques.
Far from stupid and debilitating sects, far from pompous secret societies, Phosphenism is imposing itself more and more as an alternative for those who are in search of true esoteric knowledge.
There are hundreds of thousands of Phosphenists in the world today.
Phosphenism has no guru to whom it is necessary to make allegiance, and no dogma (phosphenists can be religious or atheistic). There are no adepts isolated from the outside world, but independent phosphenists perfectly integrated to society. No psychological pressure can be applied on the individuals who decide to stop practicing as there is no community. And lastly, Phosphenism does not have the vocation of infiltrating the structures of political power. It is for all of these reasons that it is the only worldwide esoteric/initiatory organization that is not classified as a "sect".
Phosphenism is the diffusion to the general public of a knowledge that used to be confidential and reserved to an elite of initiated individuals.
---
---
---
PHOSPHENISM Publishing was created in 1986 to publish the masterworks and discoveries of an exceptional research scientist and an extraordinary man: Dr Lefebure.
The School of Dr LEFEBURE: founded in 1987.
The first center specializing in the teaching of initiatory techniques, it continues Dr Francis Lefebure's research and publishes all the work that he has done since August 1945.
Phosphenism is the diffusion to the general public of a knowledge that used to be confidential and reserved to an elite of initiated individuals.
® Phosphenism is a registered Trade Mark deposed for the books, audio recordings, videos and the educational method
---
We are looking for persons to teach and diffuse the educational and
personal development applications of the method.
---
This offer is destined to those who can read French.

Vous appréciez les travaux du Dr LEFEBURE,
vous êtes à la recherche d'une activité professionnelle,
vous souhaitez devenir responsable de projets,
vous maîtrisez le français et l'anglais aussi bien à l'oral qu'à l'écrit,
vous avez des connaissances en e-marketing, en réseaux sociaux etc.
Je vous propose de vous occuper de la diffusion du Phosphénisme aux USA et dans tous les pays anglophones.

La mise en place d'une telle diffusion est un gros travail mais qui peut vous rapporter énormément au plan financier parce qu'il y a une réelle demande.

Pour ma part, je ne maîtrise pas la langue anglaise et par ailleurs la diffusion de la méthode en France m'occupe à temps complet.

Pour monter ce site Internet (www.phosphenism.com) et proposer autant d'informations en langue anglaise j'ai dû faire appel à des traducteurs.

Il ne reste plus qu'à s'atteler à la partie communication et promotion comme c'est déjà le cas en France et dans les pays francophones où la méthode est pratiquée par de très nombreuses personnes.
Si vous visitez le site français, qui est le plus complet notamment avec son forum, vous pourrez très vite constater sa popularité.

v En d'autres termes, je recherche une personne qui deviendrait mon collaborateur principal pour la diffusion de notre méthode sur les USA et les pays anglophones étant entendu que toutes les retombées économiques seront pour lui. Des retombées qui, compte tenu du marché, peuvent atteindre des sommes vraiment très importantes, voire colossales.

Si vous souhaitez relever ce challenge, n'hésitez pas à m'envoyer votre CV
Daniel STIENNON

PS. : Je rappelle que seules les personnes disposant d'un contrat de diffusion et d'un certificat signé par moi peuvent en toute légalité diffuser les travaux du Dr LEFEBURE " Phosphénisme ".
---